Why do you need a back-office system for your travel agency?
Last updated on
Mon/08/2022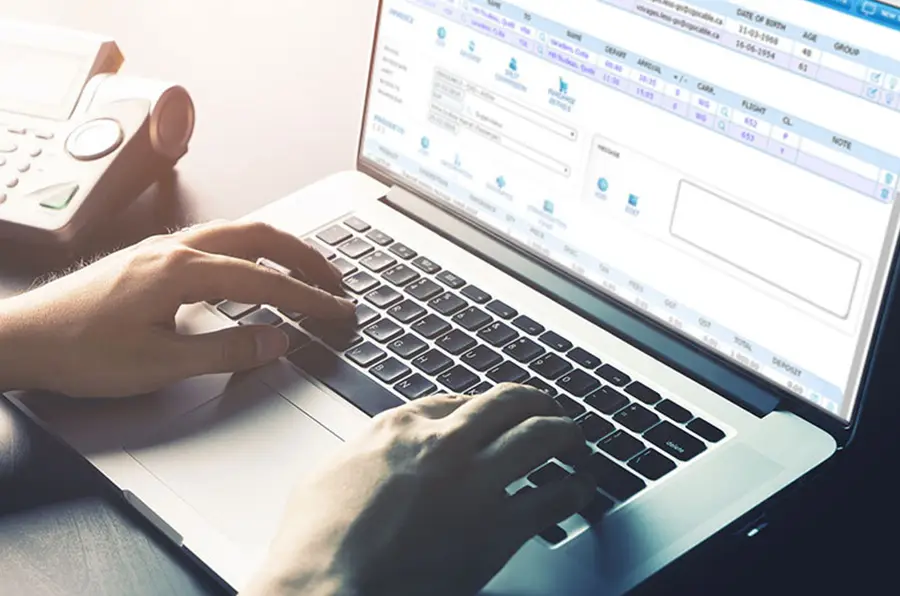 If you are looking for a reliable tool to manage your travel agency, it is vital to knock at the right door. Your back-office solution will provide you with many features such as invoicing, accounts receivable, accounts payable, General Ledger, advanced reports in real time and much more.
Improve Your Productivity
Through its many available features, a back-office solution for travel agencies is the ideal tool to save time and money both from the administrative point of view and from the consideration of service quality. Moreover, key performance indicators in real time will guide you in your travel agency's strategic decision-making process and will allow you to better assess your travel agents' performance.
With that kind of system, you will be able to generate invoices, manage your accounting and use a strong CRM to follow up with your customers. All of this centralized in one essential tool, you will increase your customers' satisfaction while saving time and money.
Accounting Tailored to the Travel Industry
Conceptualized to simplify your tasks within the travel agency, a back-office solution tailored to the travel industry will reduce your time spent on group travel invoicing, follow ups related to travel agents' commissions, vendors credit card management, sales report generation and with compliance to the travel industry legislation (for example, in Quebec, with the OPC) etc.
All these key elements are essential and therefore require a lot of care, accuracy and time.
This system will simplify your day-today work and will guarantee the data integrity with automated processes, the templates for data entry, the easy management of all payment methods and the possibility to set up custom levels of access will simplify day-to-day work and will guaranty the data integrity. You will avoid potential mistakes as well as increase the satisfaction of your customers and staff.
Robust and Secured
A user-friendly turnkey solution is the best choice. Its easeful access through an internet connection with very fluid screen navigation and this despite the size of your large customer database.
Servers have to be installed in a cascade for efficient data back-ups and hosted by a renowned provider for optimum protection.
Software access has to be fully customizable to grant various levels of access to your staff and to your external travel agents according to their responsibilities.
By having everything centralized in one back office system, you avoid all risks of errors and guarantee data accuracy.
Easy to Use and Pleasant
Access at any moment
Your different modules, consult, publish, modify and delete content effortless through a pleasant screen navigation that has been standardized in the system, perform specific advanced searches and be alerted visually in your files presenting a complication (delays in payments, amount due to suppliers and by customers, impact on travel agents' commissions, bank reconciliation gaps, etc.)
A Well-proven solution
By meeting all these criteria, TravelWorks backoffice solution, one the North-American leaders in accounting software / management systems for travel agencies, is certainly an excellent choice on the market to satisfy travel agencies and their customers.
Our constantly evolving solution aims at meeting travel agencies needs and travel agents' stakes. We invest every year $300,000 in Research & Development to use the most advanced and cutting-edge technologies on the market.
To conclude, our back-office solution for travel agencies will enable you to save a lot of time and money due to the numerous features that have been designed specifically for the travel industry. A reliable, secured and user-friendly solution that will improve your customer satisfaction, reduce operational costs and generate more revenues.
Ask for a demonstration to a software specialist and evaluate yourself the beneficial outcomes you can get from TravelWorks. You will be seduced by this essential management solution!